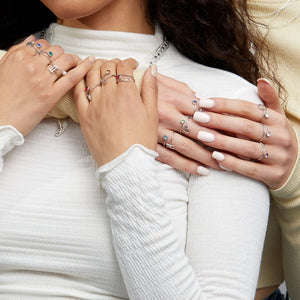 Like to contact us about our jewellery or an order you have placed with us?
We're here to help and available Monday - Friday 8:30am - 5:30pm (GMT).
FAQs
Have you tried our Frequently Asked Questions page?
We have put together a handy list of FAQs to help you if we aren't available or if you'd like to self-serve and find the answer for yourself. We may have the answer to your question there.
Customer Support
Or put pen to paper the traditional way:
FIYAH
Colt House, Manor Lane, Holmes Chapel
Cheshire CW4 8AF, United Kingdom
Press Enquiries
For all press enquiries, please contact us at: press@fiyah.com
Affiliate, Influencer & Collaboration Enquiries
Read more about our affiliate programme or contact us directly: info@fiyah.com
We currently accept the following payment methods:
Visa
Mastercard
American Express
Diners Club
Discover
Apple Pay
Google Pay
PayPal
Shopify Pay
Klarna
We have also partnered with Klarna to offer 'Buy Now, Pay Later' and 'Pay in 3'.
All orders are processed immediately between Monday-Friday 8:30am-5:30pm so you will have a limited window to amend or cancel your order.
If you would like to amend or cancel your order, please contact us immediately by phone (Monday-Friday 8:30am-5:30pm) and we can try to accomodate your request.
Our return & exchange policy lasts 90 days. Returning your order for a refund or and exchange is easy.
See our Return Policy for more information.